<![if !IE]> <![endif]>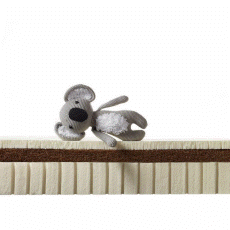 The WellMatt Cocolat Baby Mattress is made of a brilliant combination of the perfect natural latex and the amazing coconut coir. This mattress can be considered as one of the best mattress for babies and kids.

We have a very high concern when it comes to mattresses for babies and kids like many other parents and adults have. Our Motto is: We do not manufacture anything that we would not use for our own kids. We definitely do not use any harmful materials in our Baby/Kids Mattresses. We are proud to say that only certified and natural materials are used in our products to help babies/kids sleep better and grow healthy, supporting their spinal development, are hypoallergenic, are free from mites, mildews and bacteria, and are also breathable, reduce risk of asthma and SIDS.

Time to rest on Natural Mattresses. It is all about the quality of design made by hand, built with passion and care.

WellMatt, manufactures mattresses with the best craftmanship and with only the finest natural materials. To sleep on natural fibres is exquisite, extremely beautiful and delicate.

Reward yourself with the finest and stay apart from the ordinary and standart.

You are special and you deserve only the best like our bespoke mattresses.

Imagine a mattress made entirely out of certified natural and organic materials such as the most luxurious horsehair, coconut fiber, latex, cotton, wool and everything from the nature.

And now, imagine yourself lying on this mattress and enjoying its comfort feeling like you are on the clouds, knowing that all these natural materials are fully handcrafted and consciously joined like a piece of art!

Wouldn't that be great?

WellMatt, one of the undisputed best companies in manufacturing natural mattresses and one of the very few using only high-quality materials, invites you to join the luxury organic sleeping world.

Fatih Mah. 1197 Sk. Sarnic/Gaziemir No: 1/1
35040 Izmir
Türkiye
WellMatt manufactures handcrafted Natural&Organic mattresses. Horse hair/Natural latex/Coconut/Wool