<![if !IE]> <![endif]>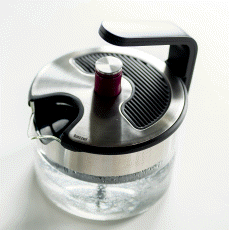 Kezzel - The automatic kettle for the induction hob
Our innovative and sustainable Kezzel kettle switches off the induction hob as soon as the water boils. Convenient, safe and energy-efficient. Without its own heating and cables. Purely mechanical and completely new in high-quality design and with no plastics in the cooking container. The heating shut-off is based on a function of induction cookers: When the cookware is removed from the induction field, the energy transfer stops and the induction field switches off. To simplify matters, our product does not lift the entire pot, but a magnetic plate in the glass kettle is automatically lifted as soon as the water boils. The cooker then switches off.

Kezzel is not a vision - Kezzel is very real
Until now there have been kettles and electric kettles, Kezzel combines the best of both worlds! Timeless design, durability and ease of use of the classic kettle combined with the benefits of modern, intuitive technology and efficient induction. When the water boils, Kezzel switches the hob off automatically.

Kezzel does not age
Completely without electronics, robust and modular, Kezzel is designed to last. All components are replaceable, repairable and the glass container is dishwasher safe. Kezzel is a durable companion for a lifetime.

Kezzel is sustainable
Energy-efficient induction technology, lifelong repairability and the availability of all spare parts conserve resources and save energy.

Kezzel – Like the old days, just better.
Lise-Meitner-Allee 24
44801 Bochum
Germany