<![if !IE]> <![endif]>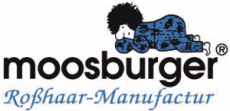 Walter Moosburger KG
Ziegelbachstraße 54 Rosshaar Manufactur
6912 Hörbranz
Austria
List of Products
This exhibitor shows the following products and commodity groups:

Target and sales markets
Africa
Asia
Australia
Brazil
Canada
China
Colombia
East Africa
Europe
Japan
Mexico
Middle East
New Zealand
North Africa
Northern Europe
Oceania
Others Central America
Others Oceania
Others South America
Russia
South Africa
South East Asia
Southern Europe
The Americas
Turkey
USA
Western Europe

Company & products
Nature product
The proven Biocen system extends the life of the mattress and improves the quality of sleep.
The extra long and thin braids are turned on by hand in the Horsehair Manufactur and combed to their natural volume.
For the full horsehair mattresses and pads only horse tail hair (RS) is used, for the pillow the softer bovine tail hairs (SH) are used.

The mattress is divided inside by fabric webs in chambers that extend over a whole width. Zips on both sides allow access to the interior at any time. The hair tail hairs are in small "cube pillows", each filled with the exact same weight, then the cushions are sewn. For the eleven-centimeter-high mattress, more than 60 of the small elements filled with horse-tail hair are needed; thanks to the material bars, each one stays in place.

The Biocen system offers:
1. The filling can be washed in cubes individually at 30 degrees in the washing machine and dried in a dryer, an invaluable advantage, for example, when a child's bedwetting.
2. The strength / hardness of a mattress can also be changed later
3. The elements can be interchanged. So the edge cubes are little loaded and can be exchanged with the more heavily used cubes in the middle
4. The tripartite division of the entire mattress serves the same purpose. Head and foot parts are less stressed than the middle section - replacement increases the service life

Since the mattress parts all around have soft edges and were also made slightly longer than the bed frame, they are pressed together in such a way that no gap is created or even felt. For airing, the individual mattress parts can simply put out of the window, which is rarely possible with whole mattresses.